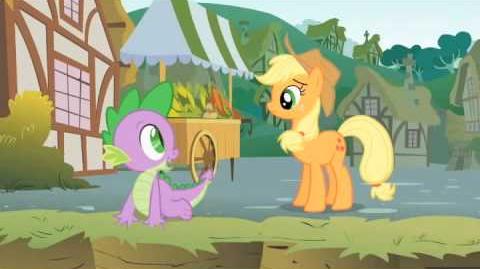 There were 4 seasons of MLP in the new Series plus more seasons in the Old Series. this Page will Focus solely on the New Series of MLP.
Season One
Edit
The first season of My Little Pony: Friendship is Magic began the fourth generation of the show. It was developed by long time pony fan, Lauren Faust.
Season Two
Edit
Season Two began with the episode The Return of Harmony which introduced the villain Discord who was voiced by John de Lancie.
Season Three
Edit
The third season premiered on the 10th of November, 2012, at 10:00 AM Eastern Time. Season three had only thirteen episodes and is the shortest season of the series.
Season Four
Edit
Payment for the fourth season of My Little Pony is listed in DHX Media's fiscal report for Q1 2013. For a brief period in early February, Daniel Ingram, the show's music composer, had season four listed on his résumé and a total of 91 episodes for the show, leaving 26 episodes for the fourth season after the 65 episodes of previous seasons. At the Las Pegasus Unicon convention on 20 February 2013, Meghan McCarthy said that season four's production is "in full swing". Season four is set to premiere on November 23rd,2013.