is a bright pink Earth pony from
Ponyville
and one of the main characters of 
My Little Pony Friendship is Magic
. Pinkie's mother calls her 
Pinkamena Diane Pie
 in The Cutie Mark Chronicles. She resides and works at
Sugarcube Corner
as a baker, assists Mr. and Mrs. Cake at work, babysits their Children , holds parties for the various ponies of Ponyville. When she is not Partying  she goes on exciting adventures with her friends known as
The Mane 6
.
Personality
Edit
Pinkie Pie is known for being the 
element of laughter
. She has the most optimistic personality out of any pony in the series. She is very Outgoing , very bubbly and giggly (Likes to Laugh) .  She is known for her parties. Also she is known for being able to make every pony she meets laugh.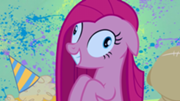 Ad blocker interference detected!
Wikia is a free-to-use site that makes money from advertising. We have a modified experience for viewers using ad blockers

Wikia is not accessible if you've made further modifications. Remove the custom ad blocker rule(s) and the page will load as expected.